Locations
Here's where we've currently taken root around the community. Nibble by nibble, we'll go nationwide! Interested in bringing Brighter Bites to your city? Contact us!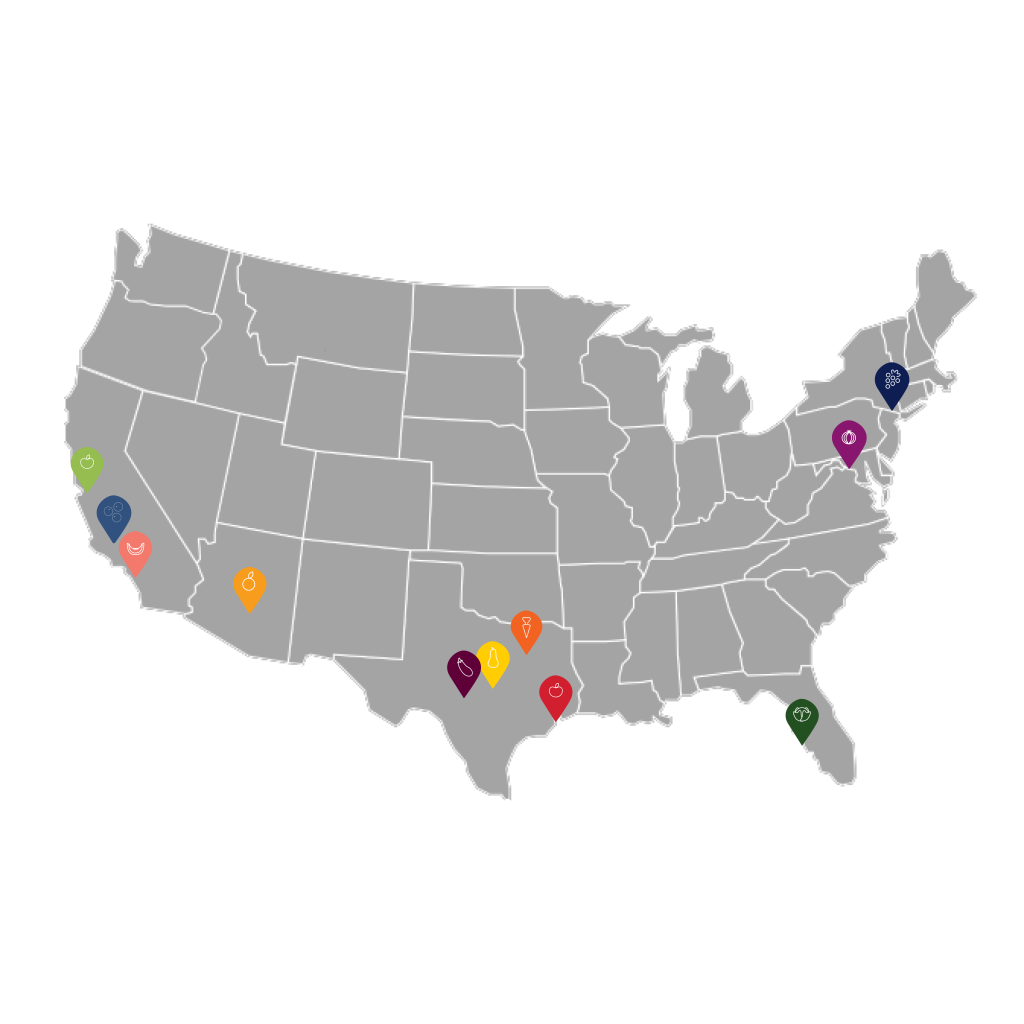 DALLAS
See where we've been
Arcadia Park Elementary
1300 N Justin Ave Dallas, TX 75211
Arturo Salazar Elementary
1120 S Ravinia Dr Dallas, TX 75211
Ascher Silberstein Elementary
3101 Lawnview Ave Dallas, TX 75227
Bethune Elementary
1665 Duncanville Rd Dallas, TX 75211
Burnet Elementary
3200 Kinkaid Dr Dallas, TX 75220
Celestino Soto Elementary
4510 Jefferson Blvd Dallas, TX 75211
Charlie McKamy Elementary
3443 Briargrove Ln Dallas, TX 75287
Dr MLK Jr Arts Academy
1817 Warren Ave Dallas, TX 75215
Eddie Johnson STEM Academy
201 S Goode Rd Wilmer, TX 75172
Felix G Botello Elementary
225 S Marsalis Ave Dallas, TX 75203
Foster Elementary
3700 Clover Ln. Dallas, TX 75220
Gilbert Cuellar Elementary
337 Pleasant Vista Dr Dallas, TX 75217
Harmony Science Academy Plano
550 Talbert Dr Plano, TX 75075
Henrie Elementary
253 W. Lawson Rd Dallas, TX 75253
Highland Meadows Elementary
8939 Whitewing Ln. Dallas, TX 75238
Keyes Elementary
1501 N. Britain Rd Dallas, TX 75061
Manara Academy Irving Elementary
8201 Tristar Dr Irving, TX 75063
McKenzie Elementary
3535 Stephens Green Dr Mesquite, TX 75150
Nancy Cochran Elementary
6000 Keeneland Pkwy Dallas, TX 75211
Nathan Adams Elementary
12600 Welch Rd Dallas, TX 75244
Peabody Elementary
3101 Raydell Place Dallas, TX 75211
Peeler Elementary
810 S. Llewellyn Ave Dallas, TX 75208
Pirrung Elementary
1500 Creek Valley Rd Mesquite, TX 75181
Preston Hollow Elementary
6423 Walnut Hill Ln Dallas, TX 75230
RISD Academy
13630 Coit Rd Dallas, TX 75240
Rose Haggar Elementary
17820 Campbell Rd Dallas, TX 75252
San Jacinto Elementary
7900 Hume Dr Dallas, TX 75227
Stevens Park Elementary
2615 W Colorado Blvd Dallas, TX 75211
Tosch Elementary
2424 Larchmont Dr Mesquite, TX 75150
OVER 60 MILLION
POUNDS OF FRESH PRODUCE SO FAR!