12.19.2017
Winter Break with Brighter Bites
The winter holidays are upon us, which means it's time to celebrate what we love most – family, friends, and of course, delicious food! With the kids home from school and more hands in the kitchen, it's the perfect time to whip up traditional holiday foods and add some new recipes into the mix.
At Brighter Bites, we've found a handful of recipes that we'll be preparing this year and are so excited to share them with you! They're warm, cozy, and full of fruit and vegetable yumminess…perfect for the chilly weather of winter break. Bring these easy-to-make dishes to a holiday party or enjoy them with your family. They're sure to impress any crowd!
Winter Break Menu
Winter squash is an excellent source of vitamins A and C, and a good source of fiber, potassium, and magnesium. This sweet, creamy soup is a tasty way to get nutrients that everyone will love.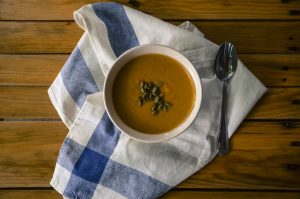 What's better on a cold day than a warm bowl of soup? This turkey and vegetable chili is sure to warm you and fill you up all winter long.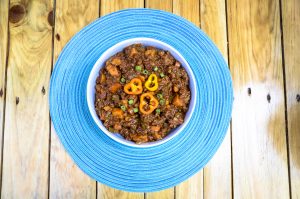 Sweet potatoes are in season this time of year, and this recipe is an amazing way to prepare them for kids! Sweet potato fries are crispy on the outside, soft inside, and easy to make…the perfect addition to any meal!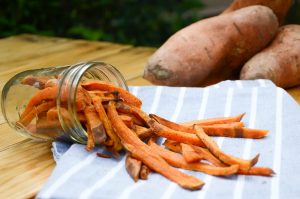 This delicious dessert is cinnamon-y, sweet, and warm. Baking apples brings out their natural sweetness so you can have a sweet-tooth satisfying dessert without added sugars.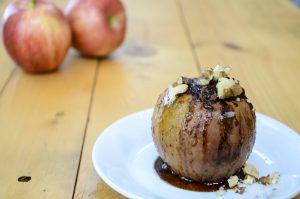 Winter break is the perfect time to get children excited about fruits, vegetables, and nutritious foods by inviting them into the kitchen. We know it can be challenging to convince children to try new foods, but when they're included in the preparation, kids are more likely to try the dishes they help prepare!  For more information about including your children in the kitchen, check out Kids in the Kitchen.
Make sure to also check which fruits and vegetables are growing near you so you can incorporate more seasonal produce into these holiday recipes and other holiday meals. Produce that is picked in season is more nutritious, flavorful, and affordable…a triple whammy!  For more information about what fruits and vegetables are in season, consult our Eat in Season tip sheet.
If you've already fixed your holiday menu, consider revamping your recipes by swapping out WHOA ingredients for GO ingredients. Flavor your foods with fruits, vegetables, nuts, and spices instead of less nutritious butter, lard, oil, heavy cream, and added sugars. Swap out white flour for whole wheat flour, heavy cream for low fat milk, and added sugar for natural applesauce or mashed banana. Try out different cooking methods, like roasting and steaming, which require less oil than frying. For more healthy cooking tips, visit our Cooking Techniques Part 1 and Cooking Techniques Part 2 resources and click here for additional healthy dessert tips.
Happy holidays and happy healthy cooking from our Brighter Bites family to yours