6.1.2019
Volunteer Superstars in Houston, TX
One of the wonderful parts of carrying out the Brighter Bites mission of creating communities of health through fresh food is getting to see those communities come together and grow around a common love for fruits and veggies. This is something the Brighter Bites team regularly experiences with families, teachers, and school staff members who participate in the program. In this article, we're sharing some of the Houston team's favorite anecdotes about superstar school staff or volunteers who participate in Brighter Bites and contribute to the healthy communities we're creating in Houston.
Seguin Elementary 
I'd love to shout out to the volunteers and Staff at Seguin Elementary.  All of them are always ready to drop everything and help out in any way they can.  Everyone always has their Brighter Bites shirts on for distribution day and are always glowing with excitement when they see the produce. – Tanya Reyes, Program Coordinator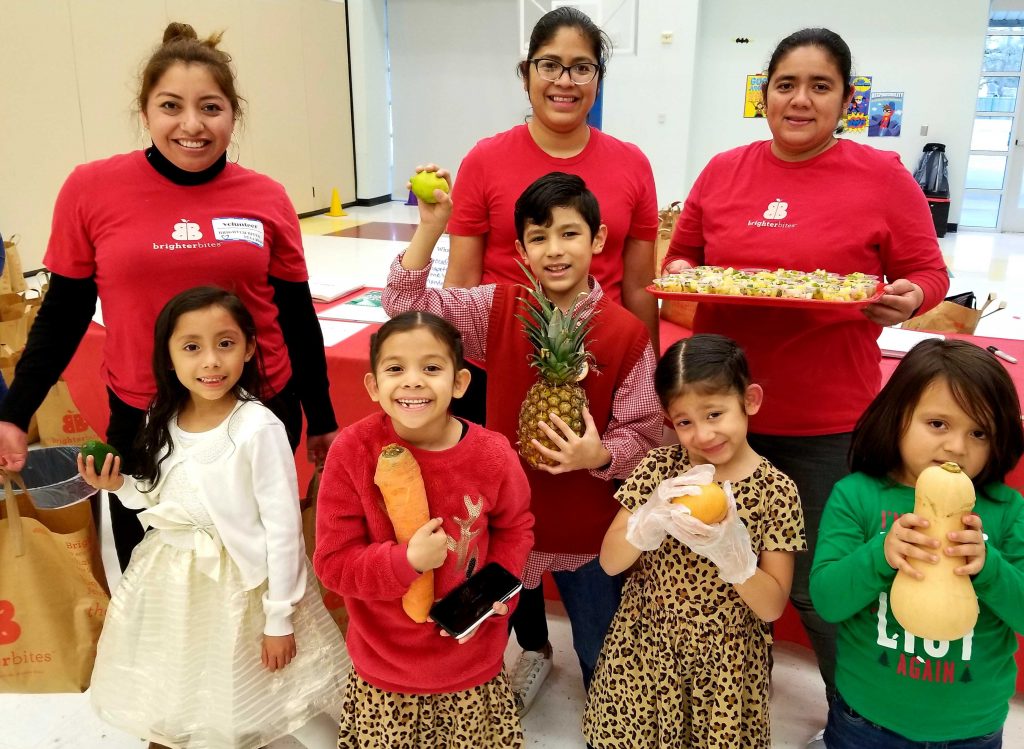 Halpin Early Childhood Center
My Halpin contacts and teachers are amazing! They are always eager to help with bagging, delivering the teachers bags, and at distribution. The teachers love seeing what's in the bag, and they do a fabulous job with nutrition education. – Katie Degen, Program Coordinator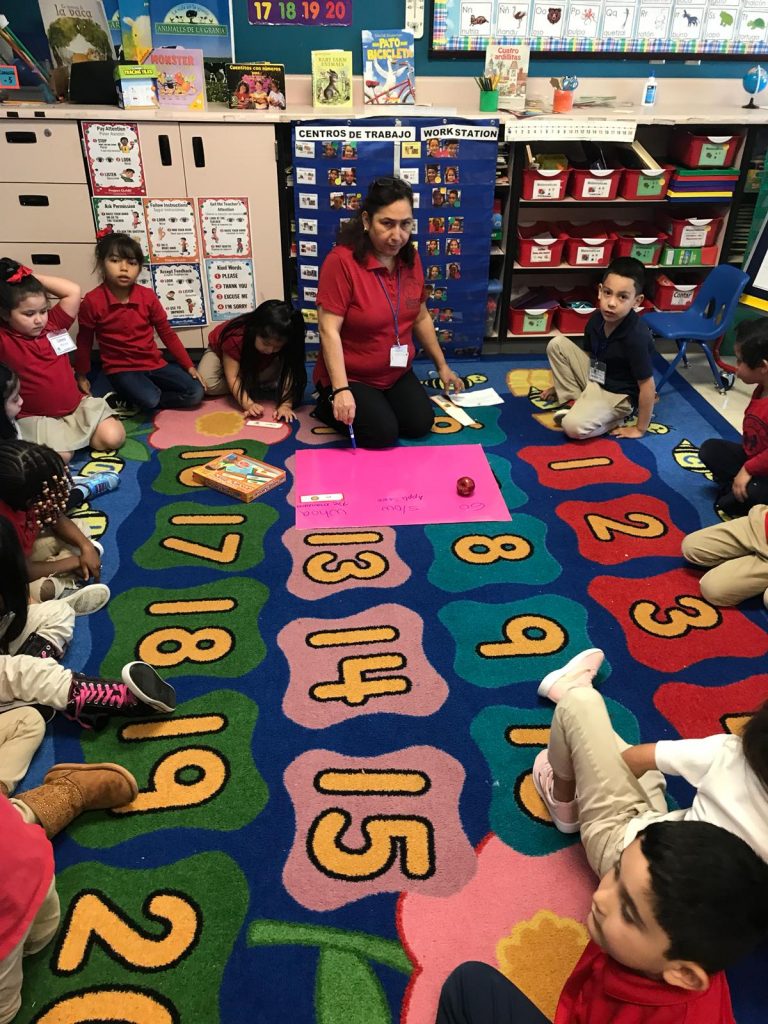 Boone Elementary 
One of my favorite stories from Boone is Zoha, one of our young volunteers, being so excited to show me her strawberry purse! She came to almost every bagging and would help bag fruits and veggies with her mom. – Samantha Rodriguez, Program Coordinator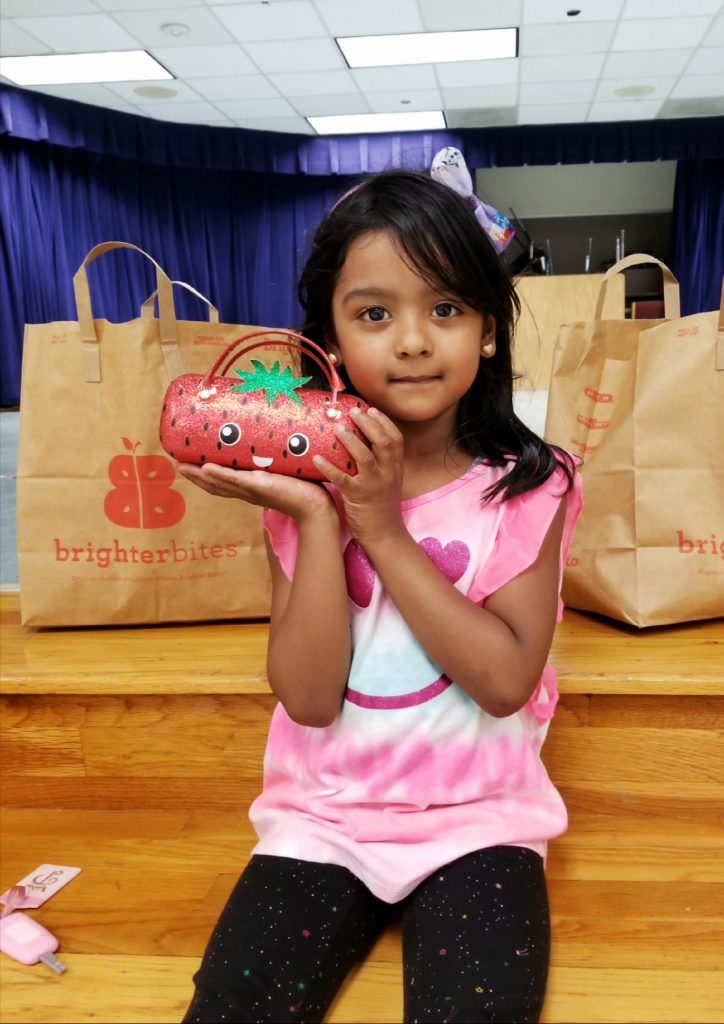 Kennedy Elementary
A standout school staff member would be Ms. Manson, the Parent Liaison at Kennedy Elementary. The first time I met her I showed her our video from our website, and it brought tears to her eyes. She knew that the first day of Brighter Bites bagging was October 16, so she wrote that date across her dry erase board and made sure to mention it EVERY time we met so that she knew exactly when we would be on campus. On the first day of bagging, she had recruited over 20 parents to help! She would go out of her way to make bagging a pleasant experience by bringing coffee and breakfast bars for the volunteers. She brought toys and play mats for the volunteers' children to keep them occupied. She called teachers individually to ensure they came to get their bags. She would speak with teachers who were struggling to log their CATCH lessons or produce activities and offer to log their lessons for them! Our first year at Kennedy was wonderful, and I can't thank Ms. Manson enough for the love and support she brought to Brighter Bites on her campus. – Samantha Rodriguez, Program Coordinator
Matthys Elementary
The nurse Ms. Lloyd at Matthys Elementary…I love her. I always tell her how much I appreciate her hard work on the ground at the school when we are not there. Her hard work is so apparent in the Matthys nutrition education report and the amount of volunteers Matthys provides every week. She is on it, and it truly helps to have that "special somebody'"who supports the program and the work that I do at the school as the program coordinator. – Thelma Green, Program Coordinator
Fisher Elementary
Genesis is one of our faithful distribution volunteers at Fisher Elementary in Pasadena ISD. She hands out the how-to as a "ticket" to families to get their bags every week. One day we were talking about life, and I asked her what she wanted to be when she grows up. She said she wanted to be a Brighter Bites worker. And I asked her if she knew what Brighter Bites workers do, and she told me that they talk to families about fruits and vegetables so they can be healthier. Needless to say, she's ready. I also told her to keep doing well in school, and go to college so she can be the best Brighter Bites worker! – Jacqueline Castro, Program Coordinator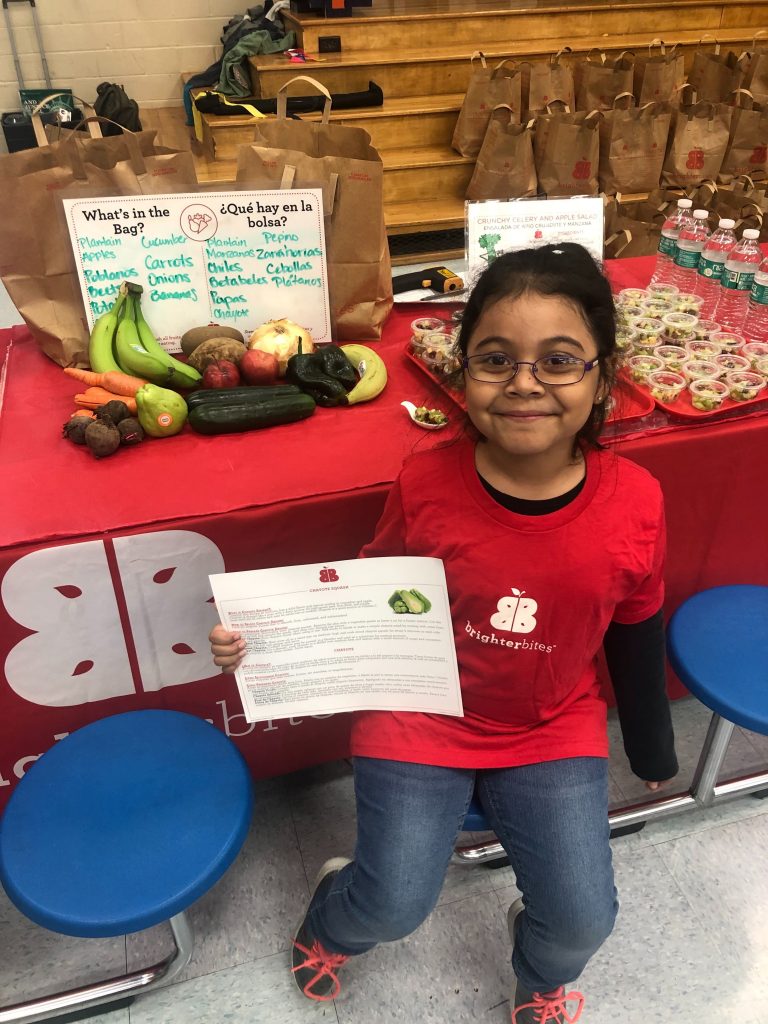 Robinson Elementary
So a line of 40+ children were leaving P.E. when I got to the gym at Robinson this morning, and the first student said, "I'm eating an orange today, that's a go food!" And then without prompting, every single kiddo told me a "go" food example as they passed me! – Rachel Perlmutter, Program Associate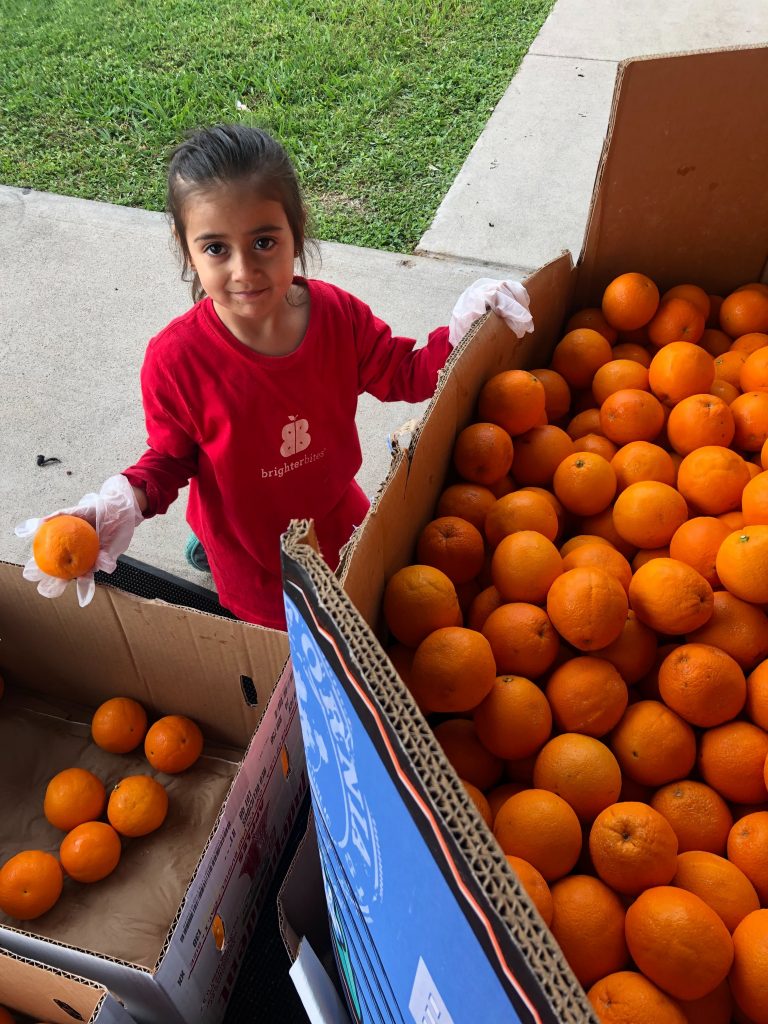 Rucker Elementary
At Rucker a mom said to me, "Thank you for having Brighter Bites come here. I see a big change in my girls. They choose to snack on vegetables rather than junk food. They already know that when Monday comes around I come home with bags of produce, and they're excited to see what's in the bags for the week. Thank you so so much for all that you do." 
I find it so rewarding to hear these kinds of testimonies from families out in the field. – Tibisay Guzman, Program Associate
Seguin Elementary
The teachers at Seguin Elementary have a text message group where they share their Brighter Bites recipes! – Tanya Reyes, Program Coordinator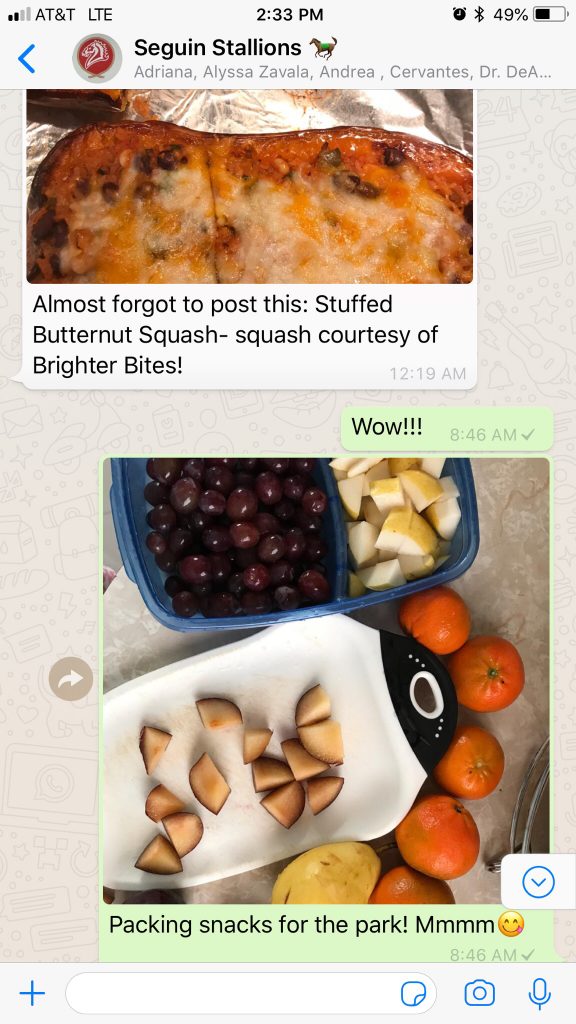 Boone Elementary
It is truly amazing to hear that parents are making the snacks at home. At Boone, I was about to leave, and a student approached me and said, "Do you remember the smoothie that Brighter Bite made last week?" I said, "Yes, the Hulk Smoothie." She said with a smile on her face that she liked it so much that her mom made it for her. – Mary Ifebuzor, Program Associate
Ogg Elementary
Everyday of Brighter Bites at Ogg, I work in the teachers lounge and eat lunch with the teachers. One day, I was inspired by the grapefruit salad we had prepared, and I packed grapefruit with cut up mandarins. After seeing what I packed, teachers have been sitting with me sharing ideas of fruit snacks they enjoy. I love trying to be an example for teachers, and hopefully inspiring them to be examples for their students. – Samantha Rodriguez, Program Coordinator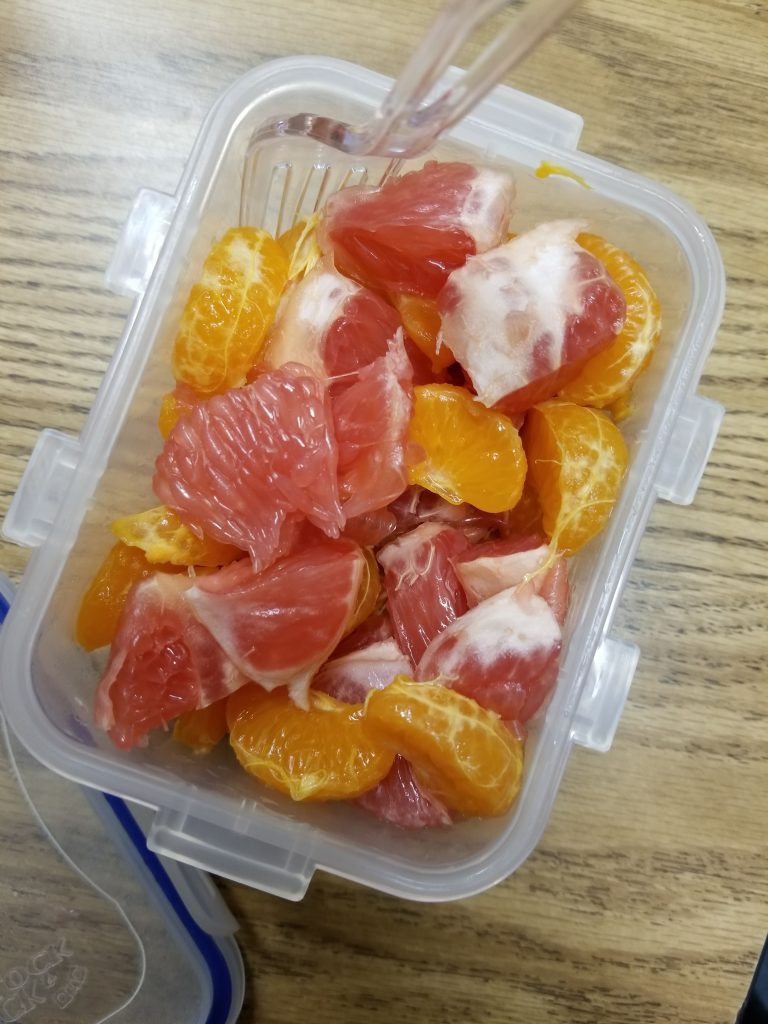 Kennedy Elementary
Enjoying spending time with our volunteers at Kennedy Elementary in Houston. One of the volunteers made a delicious chicken caldo using her Brighter Bites produce. 🙂 She was very proud of it and made sure that I tried some. – Samantha Rodriguez, Program Coordinator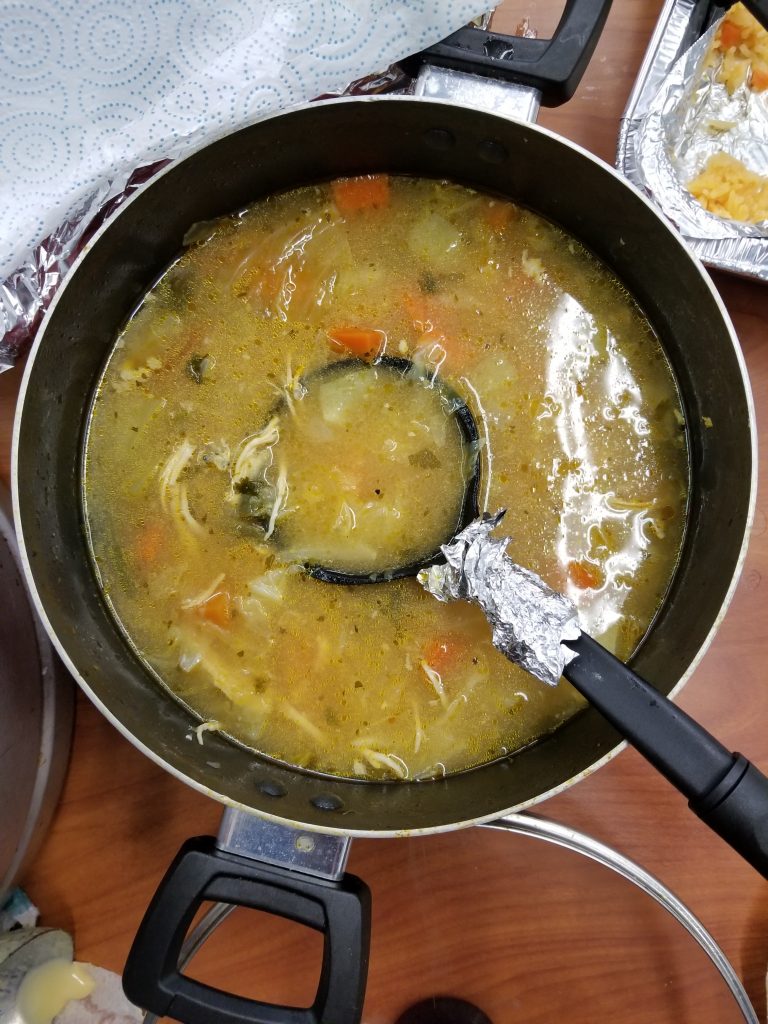 Enjoy some extra snaps of Brighter Bites in action in Houston!