9.29.2017
Three NYC Nonprofits Reorganize to Better Serve New York's Hungriest
When we work together, we accomplish so much more — a fact NYC's United Way of New York City, City Harvest, and Food Bank For New York City prove through their joint efforts to better serve NYC's hungriest communities. We're excited to see our partner City Harvest making such a huge impact on the community. Read The New York Times' take on their impact: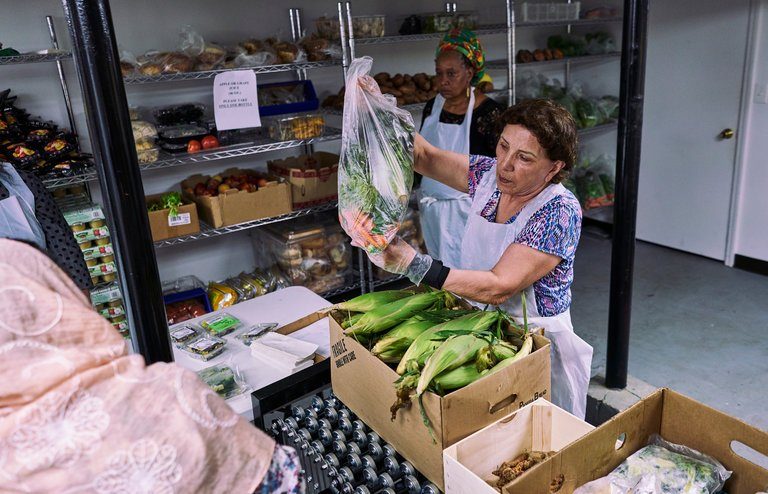 "Over the past year, New York City's three biggest providers of emergency food have reorganized in an effort to feed underserved communities and get ethnic ingredients to specific neighborhoods.
In the case of the Food Bank For New York City, the nonprofit needed to look no further than outside its headquarters in Hunts Point in the Bronx. Every day, its staff piled food into trucks that fanned out to hundreds of pantries.
Hunts Point, a mostly industrial community, has a residential area that includes a large homeless population.
"People were watching trucks go in and out full of food and none of them were stopping," Ms. Purvis said.
Food Bank now delivers to a Hunts Point pantry run by Bright Temple A.M.E. Church, which will open the area's only soup kitchen this fall with the nonprofit's help.
United Way and City Harvest, working together with the city through a coalition called the Food Assistance Collaborative funded by the Helmsley Charitable Trust, focused on a dozen other neighborhoods. Their target areas were selected based on factors like the number of grocery stores, how federal cuts in food stamps had affected the community, and the number of vulnerable people, such as the elderly, immigrants and children, said Bob Shaver, a consultant with Redstone Strategy Group, which helped analyze data and strategize.
The analysis concluded that the identified neighborhoods needed more food, prompting the city to increase the Emergency Food Assistance Program to nearly $19 million this fiscal year from about $11.5 million in 2015. That boost, along with investments by the charitable food providers, has resulted in an additional 10 million pounds of food, or 8.3 million meals, to those 12 neighborhoods.
The neighborhoods that were added stretched across all five boroughs, and the groups gave funding to local organizations to get running quickly. "One thing that's been clear over the years is that the collaborative was a missing ingredient," said Steven Banks, the city's commissioner of social services.
The coalition has identified six more neighborhoods to help in 2018.
In Borough Park, Brooklyn, Masbia Soup Kitchen Network received a $70,000 grant for renovations and a walk-in freezer within six months of beginning talks. "The time we put food in people's stomachs was fast," Alexander Rapaport, Masbia's executive director, said.
For the South Asian Council for Social Services in Flushing, "it just took one call, one email" to get $25,000 to turn their basement into a pantry that regularly feeds about 870 people, said Sudha Acharya, executive director of the council.
Since its founding in 2000, the group had referred people to pantries elsewhere, often a fair distance away. "Go to this temple or to this mosque," Ms. Acharya said. "But to go there, they have to pay $5.50 there and back."
Ms. Acharya said the nonprofit decided to open its own pantry last year, spurred by incident with an older woman whom they had driven to another pantry because she was too ill to take public transportation. When they arrived, the woman, who was South Asian, was discouraged by the offerings. "Her tongue hungered for the spices," Ms. Acharya said. "Culturally appropriate food is so important."
On Friday, the basement smelled of the cumin and turmeric stacked neatly in plastic bags. The shelves were filled with four different daals, rice and atta, which could be used to make naan, roti and other flatbreads.
A half-dozen workers formed an assembly line, which began with Kapil Roy, a program manager, who looked for names in the Plentiful app, designed to link all the pantries in the city and make it easier for people to connect to them.
The pantry is careful to consider religious dietary restrictions, separating foods for the lacto-vegetarian diets of Hindus and the halal laws of Muslims, Ms. Acharya said. "We are a very diverse community," she said, noting that her staff speaks 11 South Asian languages, plus English, Spanish and Creole.
Lilavati Patel, a 75-year-old widow, arrived Friday morning to pick up rice, flour and vegetables. Ms. Patel, who is Hindu, said through an interpreter that she planned to make handvo, a savory cake with vegetables and yogurt.
Ms. Patel said she receives about $189 a month in food stamps. "It always runs short," she said.
Thousands of people run out of food every month in New York City, where about 1.8 million people receive food stamps, but they would need more food donations without the federal help, advocates said. The Human Resources Administration, the city's welfare agency, and nonprofits have increased efforts to help people apply for food stamps. "The best way to serve a line is to shorten it," Ms. Purvis said."
Source: The New York Times, https://www.nytimes.com/2017/09/11/nyregion/new-york-food-pantries.html?utm_source=Food+Policy+Watch+%289%2F13%2F17%29&utm_campaign=September+13%2C+2017&utm_medium=email&mtrref=undefined