11.22.2017
Thanksgiving with Brighter Bites
Here at Brighter Bites, we love holidays that are centered around food and trying new recipes, so we're most grateful that Thanksgiving is right around the corner. Thanksgiving reminds us to be thankful for all the fruits and vegetables that flourish in the fall and winter – such as sweet potatoes, apples, squash, and pumpkin!
While we love cooking with these amazing seasonal produce items, an after dinner tummy-ache reminds us that not all recipes are created equal and that many traditional Thanksgiving dishes are full of WHOA foods. But did you know that with a few simple swaps, you can incorporate more fruits and vegetables into your Thanksgiving day gathering (to leave some extra room for pumpkin pie, of course)?
Whether you are spending the day cooking with your family or enjoying a potluck meal with friends, check out these healthier Thanksgiving options that are full of GO foods AND flavor.
This warm soup is a great way to start to your holiday meal! Serve as an appetizer or side and add some roasted pumpkin seeds on top for a nice crunch!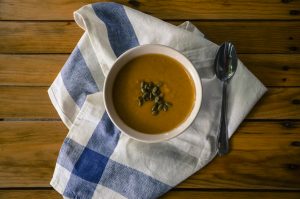 The Perfect Pear and Brussels Sprout Salad
Many Thanksgiving foods tend to be orange, yellow, and brown… but not this salad! Add some color and vitamins to your holiday menu with this yummy dish.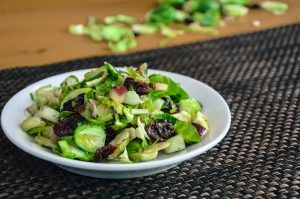 Shhhhh… we sneak in some cauliflower to this updated mashed potatoes recipe. The kids will be so busy gobbling this up, they won't even notice it's healthy!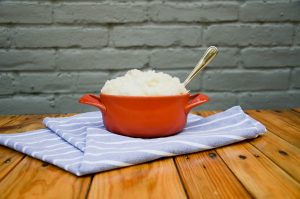 This is the perfect side for your holiday plate. It is full of seasonal produce and the pomegranate seeds adds a bright "pop" of flavor.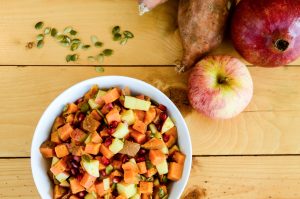 Tag @BrighterBites on Facebook or Instagram to show us your #HealthySides!
Happy Thanksgiving from our Brighter Bites family to yours!