3.23.2018
We Heart our NYC Partners
Brighter Bites is so lucky to work with amazing partners across the country that help us create communities of health through fresh food. Two of these amazing partners, City Harvest and D'Arrigo Bros. Co. of New York, work hand in hand with our Brighter Bites NYC team to make sure families in the Big Apple have access to produce during Brighter Bites programming.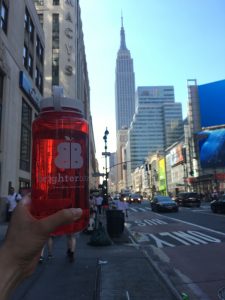 City Harvest
City Harvest pioneered food rescue in New York City in the early '80's, recognizing the second life excess food could serve in filling the plates of New York's neediest residents. City Harvest has helped Brighter Bites find produce across New York City that would otherwise go to waste. Our teamwork has allowed us to provide approximately 100,000 pounds of produce to New York families since the Brighter Bites NYC launch in 2017.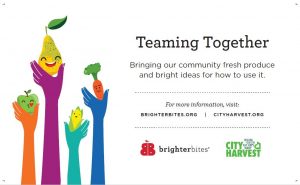 D'Arrigo Bros. Co. of New York
D'Arrigo Bros. Co. of New York is one of the largest wholesale produce suppliers in the New York Metro area. D'Arrigo often finds itself over-supplied with produce, which is where Brighter Bites comes in. Our friends at D'Arrigo work hard to select excess produce items for Brighter Bites families each week, paying special attention to supply produce items our families may never have had access to before. Instead of letting these items going to waste, D'Arrigo helps these produce items nourish our families. In addition to supplying Brighter Bites with incredible produce, D'Arrigo recently gave a generous donation to support Brighter Bites' efforts to create healthy communities everywhere we go. We are so thankful!