10.27.2017
Halloween Menu: Tasty Treats for your Ghouls, Goblins, and Ghosts
Riddle: What is a ghost's favorite fruit? (Keep reading for the answer!)
Halloween is just around the corner, which means fun times are ahead but so are a lot of WHOA foods, such as candy, chocolate, and other snacks high in added sugar and salt. Trick-or-treating is a great way to celebrate Halloween, but Brighter Bites wants to encourage you to make fresh fruits and vegetables part of the fun too!
Seasonal fruits and vegetables have been a part of Halloween celebrations for decades. Traditions like carving Jack-O-Lanterns out of pumpkins and bobbing for apples are two examples of incorporating fruits and vegetables into the festivities.
Remember the song, "Trick or treat, smell my feet, give me something good to eat…"? Don't worry, we don't think you should go smell anyone's feet, but you can easily give your kiddos something good to eat this Halloween! Consider replacing your bowl of candy with healthy items to keep your family focused on health. You can find mini boxes of healthy snacks like raisins, pretzels, granola bars, and un-popped popcorn. You can even find tiny apples or little tangerines to hand out to the little vampires and pumpkins at your door!
Halloween is also a great opportunity to put a spooky spin on seasonal dishes to make them more appealing to your picky eaters. We've put together a delicious menu to help you get into the Halloween spirit while BOOsting the nutrition on your table. These healthy takes on classic recipes incorporate seasonal produce and are sure to be a hit!
Halloween Menu
Spooktacular Squash Dip
Turkey Veggie Chili
Sweet Potato Harvest Salad
Smoky Greens
Pumpkin Spice & Everything Nice Smoothie
Spooktacular Squash Dip: This dip is a great snack for the whole family! The recipe showcases butternut squash, a seasonal favorite. Serve the dip with carrots, celery sticks, or baked tortilla chips for a healthy appetizer.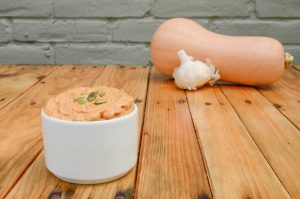 Turkey Veggie Chili: This warm, hearty dish incorporates lots of fall veggies into a lean, turkey-based chili perfect for a crisp Halloween night.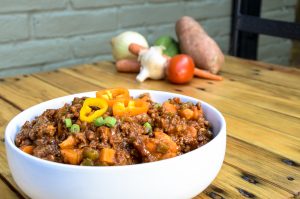 Sweet Potato Harvest Salad: This sweet potato and apple salad combines two delicious fall staples. The pop of the pomegranates and the crunch of the pumpkin seeds make this salad a winner!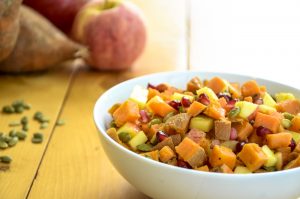 Smoky Greens: This recipe for steamed greens will bring a different color and lots of flavors to your table. Collard greens grow well into the fall season and are a great way to add greens to your plate (and you can tell your little one it's what all the little goblins are eating!).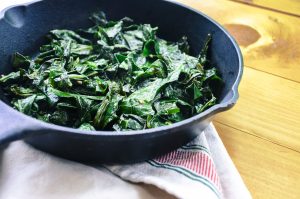 Pumpkin Spice & Everything Nice Smoothie: Finish off your healthy dinner with a creamy pumpkin spice smoothie so the kids leave the house with a full tummy! This autumn classic is an easy way to use any leftover pumpkin, and the kids can help you whip up this easy recipe!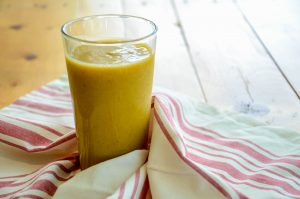 Kids need 2-3 servings of fruits and 3 servings of vegetables every day, so Brighter Bites encourages parents and kids to make fruits and vegetables a part of every meal, even on Halloween! Halloween is a great opportunity to introduce seasonal produce to your kids while keeping with the spirit of the day!
Have a happy and healthy Halloween!
Riddle Answer: BOO-berries!