5.18.2020
Brighter Bites Houston Provides 1.3 Million lbs Produce to 60,000 in April Alone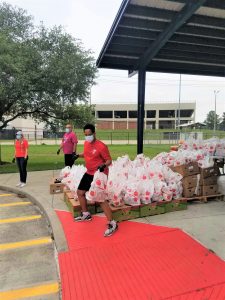 Brighter Bites in Houston has been working six days per week with partners Houston Food Bank and YMCA of Greater Houston to provide fresh, immune-boosting produce to the communities in Houston that have needed it most during these recent challenging times.
According to Senior Program Director Mike Pomeroy,"In April alone we distributed nearly 1.3 million pounds of produce to approximately 60,000 families across the Greater Houston area thanks in large part to the produce supplied by the Houston Food Bank and the YMCA employees who helped us assemble produce bags and distribute them to members of the community. This has been an incredible effort by staff members of all our organizations."
To see the distribution schedule for the remainder of May, click here.
Brighter Bites, Houston Food Bank, and YMCA sent a press release to the media before these numbers were known. The media covered the story in a variety of local Houston outlets: